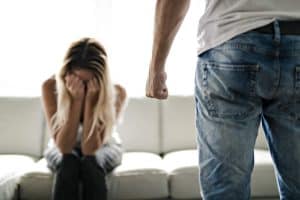 Generally, the victims of domestic violence who may file charges include a current or former spouse, a cohabitant,  someone related to the respondent/defendant, a parent or child (or stepparent or stepchild), someone who had child with the respondent, someone who had a sexual relationship with the respondent.
Maryland's statute provide some time requirements that determine the right to file a complaint with local law enforcement. Maryland law further defines "abuse" ((though the title of the statue is called "Domestic Violence") as:
Acts that cause serious bodily harm
Acts where the victim is in fear of imminent serious bodily harm
Any type of assault
False imprisonment
Other acts defined by statutes such as rape, a sexual offense, stalking, or revenge porn
How alcohol and drugs affect domestic violence
According to the Addiction Center, drugs and abuse can affect the person charged with the assault by escalating the severity of the domestic abuse. Victims of domestic violence may also turn to alcohol and drugs to try to cope. Alcohol and drugs generally increase the likelihood of violence because the substances cause the users to "lose control of their inhibitions." According to the Addiction Center, almost 80% of domestic violence crimes have a drug component.
Addiction can cause irrational behavior and violent behavior. Some of the common traits between addiction and domestic violence are:
Losing control
Continuing improper behavior despite negative reactions
Both abuse and addiction tend to get worse if not checked
Both involve shame and denial
If both parties, such as a husband and wife, have substance abuse problems, the danger of domestic violence increases even further. Both the respondent and the victim of domestic violence may require inpatient treatment to address their difficulties. This inpatient treatment usually requires treating other disorders such as:
Mental health disorders
Eating disorders
Depression and anxiety
Post-traumatic stress disorder
Anger management issues
The American Addiction Centers (AAC) supports the conclusions of the Addiction Center. The AAC states that some research indicates spousal abuse is a predictor that drug addiction may occur.
At Drew Cochran, Attorney at Law, our Annapolis and Ellicott City domestic violence lawyers understand that drugs and alcohol and other disorders are often factors in any domestic violence case. We appreciate, during these difficult times due to the COVID-19 virus, how many people are having more difficulties coping and managing their substance abuse. We fight to show our clients did not commit domestic violence or to show that treatment rather than jail is the better option. To discuss any domestic violence charges, call us at 410-271-1892, or use our contact form – to schedule an appointment.