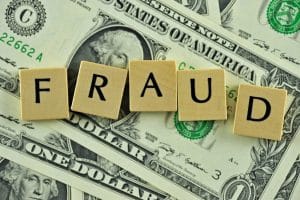 The United States Department of Justice (DOJ) District of Maryland is reporting the sentencing of a California woman to three years in federal prison for conspiracy to commit mail and wire fraud. This is in connection with a wider scheme to fraudulently obtain goods using what appeared to be a military email address, but was actually a Yahoo email.
Saulina Helen Eady, 38, of Los Angeles, California, was sentenced October 14 in federal court by U.S. District Judge George J. Hazel. Judge Hazel also ordered Eady to forfeit and pay restitution in the full amount to one victim's losses, which total approximately 640,173 dollars. Eady has been in detention since her arrest in 2018.
Eady is one of nine defendants in this case, seven of whom have pleaded guilty, including Eady. One defendant, Eunice Nkongho, is scheduled for trial in December. One defendant, Peter Unakalu, is a fugitive.
According to her plea agreement, a co-conspirator established and used a phony U.S. Navy email address, along with forms, titles and addresses to pose as a United States government contractor. Then, using these credentials, they fraudulently obtained big-ticket merchandise like big-screen TVs, specialized communications equipment, cell phones and computers.
Eady told authorities that, between October 2015 and March 2017, she helped receive, transport and store the stolen merchandise (supposedly on behalf of the U.S. Navy) by renting trucks and moving the televisions to storage units throughout Los Angeles. After the TVs were sold, Eady received cash payments for receiving and moving the merchandise.
According to court documents, the fraud ring obtained about 2,109 televisions over the course of their activities, with 493 televisions worth at least $1,500,000 attributed to Eady.
The case involved three victim companies, with one located here in Maryland.
One company, located in Washington State, provides wireless voice and data services. Another, located in Virginia, is a wholesale audio/video distributor and manufacturer's representative. The third, in Maryland, is a defense contractor that designs, manufactures and markets communications equipment. All three of these companies shipped merchandise without prior payment to Eady's co-conspirators on the East Coast, who then shipped them to Eady and individuals on the West Coast.
Some of these activities also took place outside the United States, which adds international conspiracy to the charges and penalties. It is crucial to have the right defense attorney on your side when you are charged with fraud – especially when alleged activities cross state lines. For aggressive and thorough defense, talk to Drew Cochran, Attorney at Law. Call 410-271-1892 or complete my contact form to schedule a meeting in my Annapolis or Ellicott City office.
And remember: Keep Calm – and Call Drew.