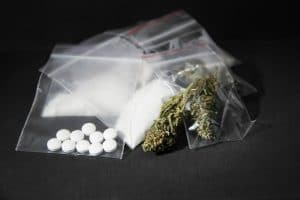 It's one thing for a few college students to be charged with possession or even sale of small amounts of marijuana. It's another when they're charged with trafficking in more than 1,000 pounds of marijuana and large amounts of other drugs including several hundred kilos of cocaine and ecstasy.
A federal investigation found that the trafficking involved numerous fraternity members and other students. Twenty-one people were charged with federal conspiracy to distribute cocaine and conspiracy to distribute marijuana. The investigation involved the Drug Enforcement Agency, a local County Sheriff's Department, and the US Department of Justice.
The alleged drug ring includes students at three North Carolina schools:
North Carolina at Chapel Hill
Duke University
Appalachian State University
The criminal charges were the culmination of a two-year investigation involving the following UNC campus chapters of Phi Gamma Delta, Kappa Sigma, and Beta Theta Pi. The DOJ eventually found that people from California were "shipping cocaine through the US Postal Service and transporting marijuana by vehicle to the college towns." The drug sale money was being shipped through the US Postal service and through Western Union and Venmo money orders.
The DOJ stated that at the Phi Gamma Delta fraternity all 22 members of the pledge class purchased an ounce of cocaine for spring break during their sophomore year.
The UNC-Chapel Hill Chancellor said that none of the defendants are currently enrolled at UNC – but that the university is working to address the situation so that appropriate disciplinary action, including enforcement of the student conduct code, can be taken. UNC suspended the three fraternities.
The other universities said they are cooperating with law enforcement.
According to the DOJ, one California defendant has already been sentenced. Seven of the North Carolina defendants have already pled guilty.
College crimes gone wild
Typical college crimes include using fakes IDs, theft, sexual assault and rape crimes, physical assault, destruction of property, DUI, and drug possession. Students may be charged with violation of school policy, which can result in disciplinary action including expulsion.
All of these examples are serious charges, and college kids can be charged in state or federal court – but none of them bring down the full force of the DEA or FBI. Drug trafficking is an entirely different ball of wax. We're talking automatic prison time and significant fines, not to mention the seizure of your assets because of criminal forfeiture rules. Without a lawyer, you're toast.
In state and federal cases, we assert your right to know the charges against you, the right to a preliminary hearing, and the right to a jury trial. We also assert your Constitutional rights including the requirement for a search warrant in appropriate cases.
At Drew Cochran, Attorney at Law, we represent college students, adults, and juveniles. Attorney Cochran often fights to resolve the school, state, and criminal charges by arguing for dismissal, contesting the charges, and working to negotiate a fair resolution of the charges. The aims of a just resolution include avoiding a criminal record, jail time, and/or expulsion. If your or a child has been arrested, call us at 410-271-1892 or complete our contact form to schedule an appointment. We maintain offices in Annapolis and Ellicott City.
And remember: Keep Calm – and Call Drew.