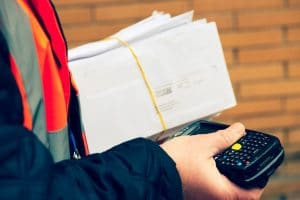 On December 26, 2020, a former Maryland mail carrier pleaded guilty to stealing credit cards from the mail. The federal prosecutor's offices said that the 27-year-old female mail carrier, Daniyelle Barnes, faces up to five years in prison. The investigation into the mail carrier's conduct started back in July 2019 when police officers "found 12 credit cards during a traffic stop and that the cards belonged to people along Barnes' route," per the Baltimore Sun.
The investigation included creating bits of mail that included bank-issued credit cards issued to fictitious people. The pieces of mail were included in the carrier's mail route. Federal prosecutors said they observed the carrier, who was "seen handling the 'bait' mail pieces, feeling for a potential credit or debit card inside the envelope, and then placing the two identifiable mail pieces inside her letter carrier case." The investigators saw her place the "bait" mail pieces into her personal vehicle. The carrier admitted she stole the mail and gave it to someone else.
As part of the plea agreement, the carrier agreed to repay more than $4,000 for the losses suffered by the financial institutions that backed the credit cards.
What are some common types of mail fraud?
Mail fraud is a federal crime, and there are lots of different types. According to USPS, some of the more common forms of mail fraud include:
Fraud against Older Americans. Seniors are especially vulnerable to mail fraud because they receive regular Social Security and retirement benefits. Many seniors now receive their benefits online which means the financial accounts of seniors may be targets for online hacking. Seniors are also often targets for various types of scams because of their trusting nature, their reliance on others for help, and their advanced age.
Fraud against Veterans. The USPS states that "78% of retired military men and women have been targeted by scams." Many of these scams involve fellow members of the military. Veterans are often targets because they receive various types of government benefits, employment benefits, and special discounts.
Sweepstakes and Lottery Fraud. Many sweepstakes are scams. Often, the scam involves receiving mail announcing you've won subject to the condition you must send money to claim your prize.
At Drew Cochran, Attorney at Law, our experienced Annapolis and Ellicott City criminal defense lawyer represents defendants who are charged with theft, fraud, and any type of crime. Attorney Cochran represents clients charged with felonies and misdemeanors in federal and state courts. For more than 20 years, I've fought to have the charges dismissed, to obtain acquittals, and to negotiate just plea bargains. I've been a strong defense lawyer for 20 years. If you've been arrested for any type of crime, call us at 410-271-1892 or complete our contact form to schedule an appointment.
And remember: Keep Calm – and Call Drew.