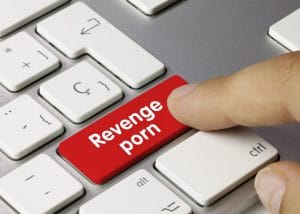 Sometimes, people can really, really, really piss you off. There are countless situations that could lead to hurt feelings and betrayal, spite, rage, etc., but in the end those factors don't really, well, factor in. What's important is how you handle yourself. Do you count to 10? Do you ghost them — block them entirely from your life with no warning? Tweet about it? Or do you consider your options for some sort of revenge?
Choose carefully. As tempting as it may be, the wrong option can backfire dangerously on you. With today's digital age, there are more ways than ever to humiliate someone who wronged you, but that also means there are more laws to stop that from happening.
What revenge porn is, and what it does
Let's clarify what exactly revenge porn is, and why it's become such a temptation for someone fresh out of straws and chock full of spite. It's a recent phenomenon made more popular by the ease and publicity of the internet, and it basically refers to sharing explicit photos or videos of another person without said person's consent. Usually, this content is either sent to a long list of people or just plain posted on social media.
As you can probably guess, this form of revenge is usually due to a less-than-amicable breakup. When you're in an intimate relationship with someone, you may both receive and send certain images to each other, and while there's nothing inherently wrong with that, it is understood that said content is private. After a relationship ends, people expect both parties to delete what they have of the other. However, sometimes that doesn't happen, and the content is weaponized when the relationship goes sour.
Victims of revenge porn often face public humiliation and other social consequences, like losing their jobs or the support of their more fair-weathered friends. It could very well ruin a life, which can feel satisfying, but really isn't worth it in the long-term.
Before you press send…
I'm not here to judge or reprimand you for wanting to exact revenge, and that doesn't change if you've already done the deed. That being said, it is important to understand exactly what you're up against and the consequences you could face. Revenge porn is illegal. At least in Maryland, there are actual laws against it and it does count as a sex crime — specifically as a form of harassment.
Due to the popularity of the idea, the laws are not nearly as forgiving as you may hope. While you're not getting life in prison, you may be getting up to 2 years in it and/or a whopping fine up to $5,000. It's also not a crime that leaves a lot of room for anonymity. If the victim only sent the pictures to you, and suddenly those pictures are on Twitter, well…
That's not hard to piece together, is it?
The penalties are even more severe if the victim is a minor. It doesn't matter if they're 17 and you're 18, or even if you're both minors, because sharing explicit content of minors counts as child pornography regardless. So now you're facing a felony charge. Now your possible prison time is up to 10 years, and the fine is now around $25,000. And, of course, now you're a registered sex offender.
No hiding. No privacy. So before you send or post anything, really — really — think about it. Consider if it's worth it, if the hurt this person caused you is worth taking both of you down.
And then maybe just block their number.
But let's say it's too late. Let's say it was the heat of the moment, emotions were raw, words were said, and you just couldn't resist posting those pictures. We all do things we regret, but it can't be taken back now, and your victim plans to take you to court. So now, the next and best thing for you to do is get an attorney skilled with these cases to defend you and your rights. The Annapolis sex crime attorneys at Drew Cochran, Attorney at Law can review your case and work to weaken the prosecution, without blame or shame. We have an additional office in Ellicott City, too, for your convenience, and the sooner you get started the better. Call us for more information at 410-271-1892 or contact us. Let's make your past stay where it belongs.