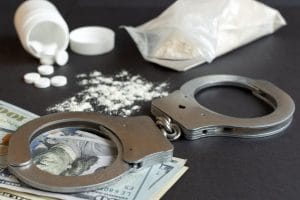 When it comes to drug-related crimes, we all have heard some of the craziest stories of how people choose to conceal and hide their drugs from the authorities. Just last month in Michigan, a woman was arrested for pretending to be pregnant and using a stuffed pouch under her shirt to conceal drugs and a gun.
It's true. That same month, a couple was arrested in Maine, where a man from New York and woman from Maine were pulled over with about four pounds of cocaine in their possession. To make matters even worse, half of the cocaine was disguised in the form of cake. The Maine Drug Enforcement Agency acted on a tip and pulled the car over around Gardiner on Interstate 295.
The agency used a sniffer dog to locate the four pounds of cocaine, two of which were disguised as a marble cake with coffee grounds that were supposed to throw off the scent. In addition to the pounds of cocaine, authorities confiscated $1,900 in cash. The two suspects were released on bail and expected to appear in court the following week.
No matter how some people personally feel about drug crimes, they are the crimes with harsh sentences. Because there are many factors determining the severity of drug crimes – such as possession and the amount of drugs found on the person – it feels as if you are playing Russian Roulette with your life in terms of what the penalties of conviction might be.
If you or someone you care about has been charged with a drug offense, you are likely concerned about the possible penalties of conviction. Listed below are some of common drug crimes in Maryland, as well as the associated penalties. The Annapolis drug crimes attorney at Drew Cochran, Attorney at Law reviews drug crimes and penalties in today's blog.
What is the crime of drug possession in Maryland?
One of the most common drug offenses people are charged with is the charge of drug possession. Per the Maryland Criminal Code §5-601, a person has committed the offense of drug possession when they possess a controlled dangerous substance without a valid prescription from an authorized user.
This code also makes it illegal for a person to administer a controlled dangerous substance without the proper authorization. If you attempted to obtain a controlled dangerous substance through various means such as deceit, fraud, or misrepresentation, for example, you may be arrested for drug possession.
The penalties for drug possession in Maryland
The penalties for drug possession may be treated in a stricter manner, depending on the type of drugs found in your possession.  Although drug possession is classified as a misdemeanor, the general penalty consists of four years of prison time, along with $25,000 in fines. This penalty is not set in stone, however. Depending on the type of substance that was in your possession and other factors in your case, the penalty may be lower or higher.
For example, you may be subject to harsher penalties if you were found with more dangerous substances such as cocaine and methamphetamine in your possession compared to marijuana. For marijuana, your maximum penalty may include 1 year in jail and $1,000 in fines.
What is drug distribution?
Drug distribution is the crime of illegally dispensing, manufacturing, or distributing a controlled dangerous substance. Per the Maryland Criminal Code §5-602, you may be committing the illegal act of drug distribution if you possess large enough quantities of a controlled dangerous substance that makes it evident that your intention was to distribute it. This code also makes it illegal to possess the equipment necessary to manufacture and dispense the controlled dangerous substance.
If you are caught with a piece of equipment or instrument used for manufacturing or distributing substances in your possession, it will be up to the courts to prove that the equipment in your possession was used for the intention of manufacturing or creating a substance.
Penalties for drug distribution in Maryland
Because drug distribution is classified as a felony, the penalty is a maximum of five years in prison and a fine of up to $15,000. Repeat offenders will face a minimum sentence of two years in prison in addition to the maximum penalties. Stricter penalties apply depending on certain factors, such as if you were arrested for distributing or manufacturing dangerous substances within 1,000 feet of a public or private school. In this case, you would be looking at penalties of up to 20 years in prison with about $20,000 in fines.
What are volume dealer and drug kingpin crimes?
One of the most severe drug crimes in Maryland includes the volume dealer and drug kingpin crimes. A kingpin is classified as a manager, supervisor, or organizer who intends to dispense, manufacture or transport controlled dangerous substances into Maryland. Per the Maryland Criminal Code § 5-612, you may be charged as a volume dealer if you are discovered manufacturing, distributing, possessing, or dispensing large quantities of controlled dangerous substances.
Similar to other drug offenses, the measurements vary for different types of substances. For marijuana, the measurement is over 50 pounds; 28 grams for opium or morphine; and over 448 grams of methamphetamine.
What are the penalties for volume dealer and drug kingpin crimes in Maryland?
For a volume dealer offense, the minimum penalty consists of five years in prison in addition to up to $100,000 in fines. Because it is viewed as a felony, the penalty for a drug kingpin offense consists of a prison sentence between 20 to 40 years without the possibility of parole, in addition to up to $1,000,000 in fines. Regardless of the judge's recommended sentencing, twenty years for this offense is the usual mandatory minimum.
At Drew Cochran, Attorney at Law, I've been serving clients in Annapolis and Ellicott City for almost 20 years. Let me provide effective, accessible, and knowledgeable legal representation for Annapolis drug crimes. If you are facing drug charges and want serious legal representation, call my office today at 410-271-1892, or complete a contact form to schedule an appointment.
And remember – Keep Calm, and Call Drew.