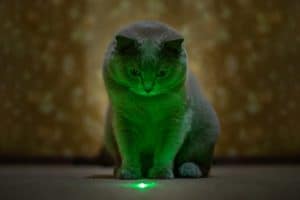 A Wisconsin teenager recently decided to use the laser sight of a 9mm handgun to play with a cat when she unexpectedly shot her friend in the thigh. It just so happened that the gun owner was the injured thigh guy, and he was out on bond in connection with another home shooting.
The whole incident was a total debacle, but there's good news for pet lovers: the cat remained untouched.
In this case, both the owner and friend were allegedly unaware the gun was loaded and it was an accidental trigger, so all is forgiven, right? Not necessarily in the eyes of the state. Actually, both parties are facing criminal charges due to playtime gone wrong. A criminal complaint of negligent use of a weapon was made against the shooter. The gun owner and victim of the shot faces more serious charges of violating the conditions of his bond. It seems obvious to say, but playing with guns around the house can lead to sobering consequences. Moral of the story: even an accidental shooting amongst friends can lead to serious criminal charges.
What are the charges after an accidental home shooting?
Maybe you own a gun, maybe your friend does, and maybe you're cat people. Hopefully, you're not recovering from a gun wound injury. Whatever the case, you may be reading this wondering what the options are if you were to find yourself facing criminal charges similar to the above duo.
In the state of Maryland, if a gun goes off accidentally in a home, there are a number of charges you may face. To start, the law will consider the negligence of the gun owner and the shooter involved in a given case. MD Crim Law Code § 3-204 (2019) states "A person may not recklessly engage in conduct that creates a substantial risk of death or serious physical injury to another." The law also includes the reckless endangerment of the discharge of a firearm from a motor vehicle. Both classifications of reckless endangerment are considered misdemeanors in Maryland, and if found guilty, a person faces imprisonment for up to 5 years, a fine up to $5,000, or both. That is just one likely charge you might face after a shot accidentally goes off at home.
Now, if a bullet hits someone, you're in some trouble. Assault charges require some form of intent, but oftentimes it is not as black and white as you might think. Intent to harm someone may be accused in a number of ways and may give way to an assault charge once a gun fires. For example, perhaps an incident got out of hand during a verbal fight, turned physical, and in the end someone grabbed a gun. Proving intent for a situation like that may become much more involved and could potentially push charges to a felony level. Maryland law classifies second degree assault as anything leading to "any impairment of physical condition, excluding minor injuries." The classification heightens to first degree assault when a person uses a firearm. So even if it was a simple fistfight, but a shot accidentally goes off, the defendant may face a felony level charge.
Other Maryland guns laws that are good to know
According to state law, it is illegal to use a firearm in commission of a crime of violence or any felony. Important to note: it is illegal whether or not the firearm is operable at the time. This is a huge deal. Maryland does not take this violation lightly. A person found guilty will be sentenced to 5-20 years in prison for this crime in addition to the penalty imposed for the violent crime or felony. Bottom line, when the minimum sentence is 5 years in prison, the best bet for someone charged with this crime is to fight the connected charge. If you are not found guilty of a felony or violence charge, this one loses its power. This is why it is crucial to hire the help of an experienced and aggressive attorney to help navigate the law to the benefit of your rights and case.
Another law to be aware of is in regards to transporting a handgun. MD Crim Law Code § 4-203 (2019) states "a person may not wear, carry, or transport a handgun, whether concealed or open, on or about the person." Of course, there are a list of exceptions, most notably is a proper permit. But if caught without one? A violator is guilty of a misdemeanor and faces a first-time offense penalty of between 30 days to 3 years imprisonment, or a fine between $250 and $2,500, or both.
Navigating criminal assault charges can be scary and confusing for those unfamiliar with the law. I recommend seeking legal representation as soon as possible. I also recommend myself, by the way.
I'm Drew Cochran, the Annapolis criminal defense attorney you want for your case. If you are currently facing criminal charges, regardless of their severity of the charge, my skilled and aggressive team wants to fight for you and your rights. Call Drew Cochran, Attorney at Law today for your legal representation: 410-271-1892 or you can fill out our contact form. We've got offices in Annapolis and Ellicott City, and we make in-custody visits, too.
And remember — Keep Calm and Call Drew.