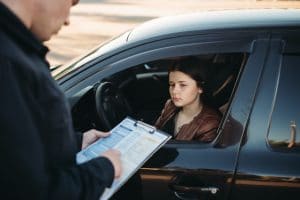 Traffic tickets are more than just temporary inconveniences and small fines. Most moving violations will result in points on your driving record. If you accumulate too many points, your license may be suspended or revoked. Insurance companies will learn of the points on your record through the Maryland Department of Motor Vehicles. The insurance companies will than raise your premiums or may even deny you insurance coverage.
The good news is that you do have the right to challenge driving tickets. Often, there are defenses to the basic charges. The police who stopped you may not have had grounds to stop you. The police may not have the evidence they need to secure a conviction. We often negotiate reductions in the charges to traffic offenses that have fewer points.
According to § 16-402, the offenses that result in 5 points are listed here:
Speeding in excess of the posted speed limit by 30 miles per hour or more.
Driving while not licensed.
Failure to report an accident.
Driving on a learner's permit unaccompanied.
Any violation of § 17–107 of this article – which involves the requirement to have the required security/insurance for the vehicle.
Participating in a race or speed contest on a highway.
Any violation of § 16–304 or § 16–305 of this title – which involves giving an unauthorized person such as an unauthorized minor permission to drive your vehicle.
Any violation of § 22–404.5 of this article – which involves having quality tires on the car.
Speeding in excess of a posted speed limit of 65 miles per hour by 20 miles per hour or more.
Aggressive driving in violation of § 21–901.2 of this article.
Use of a motor vehicle in violation of the Illegal Dumping and Litter Control Law under § 10–110(f)(2)(iii) of the Criminal Law Article.
Normally, if you have more than one violation for a single traffic incident, points will only be assessed for the most serious charge.
What are the consequences for accumulating too many points?
Section 16-404 of the Maryland Transportation Code sets forth the consequences for point accumulations.
Drivers who accumulate 3 points during the prior two years will receive a warning letter. The letter informs the driver about his/her current total and what happens if there are future violations.
Drivers who accumulate 5 points during the prior two years will be ordered to take and complete a driver improvement program. The program advises drivers about traffic safety and steps to avoid future violations.
Drivers with 8 points or more in the prior two years will receive a notice that their license is being suspended. The suspension will last from 2 days to 90 days depending on whether the driver has prior point suspensions.
Drivers with 12 points or more in the prior two years will be notified that their license is revoked. Drivers can apply for a driver's license after 6 months. The Maryland Motor Vehicle Administration can require that the driver take the driver's examination again. The time to reapply is even longer if the driver has prior revocations on his/her record.
Some drivers may be required to install an ignition interlock system on their vehicle depending on the type of violation.
The points on your record expire after two years from the date of the violation. There may be exceptions depending on whether your license is suspended or revoked or depending on other conditions – that an experienced Annapolis and Ellicott City traffic defense lawyer can explain.
Drivers can and should request an administrative hearing to challenge any point assessments, suspensions, or revocation. The hearing officer will review the merits of the point assessment. The officer "may" be able to change the penalty if your employment is at risk.
Section 16-405 specifically provides:
Except as provided in §§ 16–205(e) and 16–205.1 of this title, if the suspension or revocation of a license would affect adversely the employment or opportunity for employment of a licensee, the hearing officer may:
Decline to order the suspension or revocation; or
Modify the suspension or revocation.
What is the Maryland Driver Improvement Program?
Drivers with 5 or more points will be required to complete a defensive driving course which is regulated the Maryland Department of Transportation Motor Vehicle Administration (MVA). Normally, you'll receive notice that you need to complete the course within six weeks of the points assessment. The notice should inform you about the offense, the time you have to complete the program, and any fees or documents you'll need to provide.
Maryland has a list of approved course providers. The course lasts from 3 to 8 hours. You'll have to pay for the course. Courses are usually available in person and online.
When you complete the course, you'll be given a certificate of completion that you'll need to submit to the Maryland MVA.
At Drew Cochran, Attorney at Law, our experienced Annapolis offense lawyer defends drivers in two first ways. The first way is to contest the speeding charge, running a red light charge, or any Maryland traffic offense charge. The second way is to represent clients at the driver penalty hearing including representation for suspensions or revocation. Our criminal defense lawyer has been fighting for drivers for 20 years. He understands which defenses help the most and when negotiating a reduction in the offense to a ticket with fewer points is advisable.
If you've received a ticket, whether you're a resident of Annapolis, Ellicott City, or just passing through, call us today to discuss your rights. You can reach us at 410-271-1892 or complete our contact form to schedule an appointment.
And remember: Keep Calm – and Call Drew.