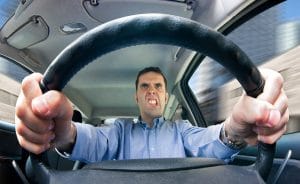 A driver gets too close. One driver gives another driver the finger. A third, equally angry driver refuses to move into a slower lane. There are all sorts of reasons why drivers get upset while they're on Annapolis or Ellicott City roads, and a whole lotta drivers who lose their tempers.
It's okay to be frustrated while you're driving. It's not okay to exhibit any sort of road rage, such as dangerous traffic maneuvers or yelling at the other drivers. It's illegal to stop your car and assault the driver who frustrates you. If you assault another driver, no matter how obnoxious that driver is, you will face assault charges that could land you in jail.
A few recent stories illustrate how local road rage incidents led to assault charges
Nottingham Maryland reported that just after 10:45 am on September 25, two individuals got into an argument near the Eastern Boulevard at Wilson Point Road in Middle River. The altercation continued until the victim got out of his car and tried to confront the suspect. The suspect then hit the victim with his car. The suspect will likely be charged with simple assault, aggravated assault, and other criminal charges.
Newsbreak reported on June 22, 2021, that two "jockeying vehicles" were involved in a road rage incident on Baltimore-Annapolis Boulevard on a Sunday night. When they reached a red light on Maple East Road, according to an officer with the Anne Arundel County Police Department, "The aggressor came out of his vehicle with a wooden stick that the victim described as either a bat or a cane and began striking the victim's vehicle with this object."
Wait. There's more.
When the victim, who is in his early 20s, tried to exit his car, the aggressor, who is 51 years old, doused the man and his family with a canister of pepper spray. The passengers included a pregnant woman (the wife) and a small child, along with the young driver. The 51-year-old suspect was arrested and charged with first-degree assault and reckless endangerment.
WTOP News reported on September 23, 2021, that a Prince George's County police officer has been suspended without pay. The officer was arrested by another officer from another department "for allegedly pulling a gun on a female driver in what appears to be a case of road rage." The police officer was charged with first and second-degree assault, firearm charges and reckless endangerment.
Just… just let that last one sink in, okay?
How are first and second-degree assault defined?
Maryland defines assault in the first degree as:
Intentionally causing or attempting to cause serious physical injury to another
The commission of an assault with a firearm including:

a handgun, antique firearm, rifle, shotgun, short-barreled shotgun, or short-barreled rifle.
an assault pistol.
a machine gun.
a regulated firearm.
The crime is a felony. A conviction can result in a sentence of up to 25 years.
In Maryland, any other assault qualifies as Assault in the second degree. A conviction can result in a sentence of up to 10 years. An assault of a police officer, probation or parole agent, or a first responder is considered a felony of the second degree. A conviction also means the possibility of imprisonment up to 10 years.
So is road rage illegal?
Well, it kinda depends on what you do. If you're screaming screaming in your own car, you probably don't have anything to worry about. But when you start nudging up on other people's cars, or pulling out baseball bats, or pepper-spraying pregnant women, then yeah – you're gonna end up facing criminal charges. But they won't be for road rage; they'll be for assault or threats or a related crime.
The best thing to do? Go park your car, roll up the windows, and scream until you clam down.
At Drew Cochran, Attorney at Law, our experienced Annapolis criminal defense lawyer has been fighting for defendants for 20 years. We understand how emotions like road rage can get out of hand. We fight aggressively to show that the prosecution doesn't have the evidence it needs to prove the case. We cross-examine witnesses to show the dispute was mutual. We fight to preserve your Constitutional rights. In many criminal cases, we are able to obtain dismissals or negotiate the charges to less serious offenses. Call us as soon as you've been arrested. You can schedule an appointment at our Annapolis or Ellicott City offices by calling 410-271-1892 or completing our contact form.
And remember: Keep Calm – and Call Drew.