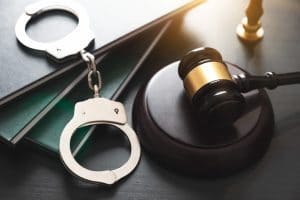 You want aggressive lawyers if you are charged with a criminal offense. After all, your freedom and reputation are on the line. There are severe financial consequences such as fines and extreme difficulty finding employment on release from prison. If you've been arrested for any felony or misdemeanor, you need a lawyer with experience. You need a lawyer who will assert all your rights and your defenses.
There are limits though. Lawyers cannot break the law to help clients. Lawyers cannot say "anything" just to get a defendant to hire them. One Pennsylvania defense lawyer recently found out that the laws do apply to criminal defense attorneys – just like they apply to everyone else. The Washington Post reported on how Daniel Muessig, used a "creative" 3 ½ minute video that went viral. The defense lawyer said, "When you're charged with a serious criminal offense, you're facing the fight of your life. You need a lawyer who understands you and understands where you're coming from." He added, "Trust me, I may have a law degree, but I think like a criminal."
The unusual, to say the least, video begins with friends of Muessig acting out various crimes, including drug trafficking. In one episode, two guys (after smiling and giving two thumbs-up to the camera) "cocked their gun, pulled masks over their faces and took off to rob someone."
It's a great advertising concept, and it clearly drove people to hire him. Honestly? We're a little mad we didn't think of it first. Bu thinking like a criminal has now cost the defense lawyer everything, and gained him a criminal record to boot.
When did the "think like a criminal" lawyer become an actual criminal?
In November 2021, Muessig pleaded guilty to federal crimes that he conspired with other people to "distribute hundreds of pounds of marijuana in April and May 2019." The guilty plea was entered more than two years after the lawyer was indicted. The FBI's investigation began to target Muessig, 39, when the initial investigation expanded.
The expansion of the investigation, according to a US Department of Justice press release, began when the FBI began to wiretap a cocaine and heroin supplier for a Pittsburgh "street gang." The communications which were revealed through the wiretaps helped the FBI agents learn that the subject of the wiretap was working with a marijuana supplier named Jared Eck. Eck was getting the marijuana from another man, Wayne Barker, "who ran a stash house with Muessig."
In time, the FBI agents conducted a stake-out of the resupply between Eck and the cocaine/heroin supplies. During the stake-out, the FBI agents observed our "I think like a criminal" defense lawyer enter an apartment with a backpack. They then saw Mr. Barker go into the apartment with a shopping bag, go back to his Jeep to get a vacuum sealer, and then re-enter the apartment. Another vehicle, a pickup, then arrived. A few men unloaded boxes from the pickup and took the contents into the apartment.
Per the Post, "Muessig and another man then carried two boxes out of the apartment building and stowed them" in the pickup. The FBI agents then followed the pickup truck, stopped the driver – and lo and behold found $400,000 in the two boxes.
The agents then entered the apartment where they found more than 400 pounds of marijuana along with the vacuum sealer and a money counter.
The prosecutor added that "Muessig was responsible for trafficking between 220 pounds and 882 pounds of marijuana."
The subject of the wiretap received a five-year sentence. Eck and Barker are awaiting sentencing.
The line between ethical and unethical behavior
Back in 2014, after the video aired, Muessig told Slate that he was just trying to let his clients appreciate that he understood their difficulties. Before graduating from law school at the University of Pittsburgh, Muessig had traveled the globe performing as a freestyle rapper, using the stage name Dos Noun.
Muessig added that he was a horrible student (sounds about right). He graduated near the bottom of his class. He "didn't respect his teachers and bucked authority every chance he could."
Muessig claimed that his "street knowledge" allowed him to speak for defendants in trouble. That type of claim is likely legitimate. Muessig began to cross the line when he claimed that "Laws are arbitrary" and said that "America was built on freedom, not on a bunch of people with more money than you telling you what you can and can't do with all their stupid 'laws.'"
It's one thing to claim that you're poor, that you had difficulties, that you understand why people are tempted to steal, distribute drugs, and commit other offenses. It's another thing to boast that you have a criminal mindset. Muessing apparently had difficulty understanding the line between zealous representation and overzealous representation. The former is generally considered ethical; the latter is not ethical.
Muessig now faces a mandatory prison sentence of at least five years for the drug crimes. It is likely the sentencing judge will consider and possibly increase the sentence – because Mr. Muessig is a lawyer who is supposed to understand the criminal laws, not abuse them.
The Washington Post story politely said that Muessig is on administrative suspension from practicing law, based on information from the state's disciplinary board website. Muessig was admitted to the Pennsylvania state bar in 2013. In Pennsylvania, a lawyer who is convicted of a crime "shall report the fact of such conviction within 20 days to the Office of Disciplinary Counsel."
At Drew Cochran, Attorney at Law, our experienced Annapolis, and Ellicott City drug crime defense lawyer has been fighting for anyone charged with a criminal offense for 22 years. He represents defendants from the initial arrest through every phase of the criminal process. Many cases are dismissed. He has obtained numerous acquittals. He also is skilled at negotiating please bargains. To discuss your charges and assert all your rights, call us by phoning 410-271-1892 or filling out our contact form.
And remember: Keep Calm – and Call Drew.