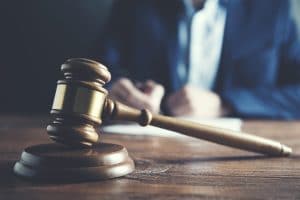 Wendy Lynn Wein attempted to have her ex-husband killed by a hitman for hire. The thing she didn't know was that the website that she hired the hitman from was a fake website, and that the person running the website turned her over to the police. Bob Innes had initially set up the website as a hacking prevention business, but soon he was getting odd and disturbing requests in his email inbox. So, he turned the website into a fake hitman hiring website, and any hits (pun not intended) he gets, he turns them over to the police.
Wein had contacted Innes through his website, seeking to have her ex-husband killed for $5,000; on which she made a down payment of $200. In a message to the owner of the website explaining why she wished to hire a hitman instead of killing her husband herself, she said "I prefer not going to jail." When charged with the crime, she pleaded guilty and is set to serve up to nine years in prison.
What is Stacey's Law?
Up until 2019, murder-for-hire in Maryland was charged as a misdemeanor, but a bill introduced in 2017 would make solicitation for murder a felony, and in the case where the result of the solicitation was the death of the victim, then the charge would be first-degree murder. The bill was passed in 2019, and became Stacey's Law.  How did this law come about in the first place, though?
In 2011, a girl named Stacey Seaton was killed in a murder-for-hire plot because a drug dealer had solicited to have her killed, because he thought she had stolen from him. After a long and drawn-out legal battle, the man who was hired to kill Stacey was acquitted of the charges, and the drug dealer who had hired the hitman served a shorter jail time after being offered a lesser charge.
But in 2019, that all changed. Now, if you hire a hitman, you will be charged with a felony. Not only does it change the charge from a misdemeanor to a felony, "the bill removes the statute of limitations to charge solicitation if a death occurs since the act would be considered first-degree murder, which has no statute of limitations. First-degree murder carries a possible penalty of life imprisonment." This means there is a longer amount of time to charge the accused.
When the bill was first introduced in 2017, there were opponents to it, saying that the current statute of limitations "… provide[s] judicial safeguards for the accused, and particularly those who are innocent from any wrongdoing. …. As time passes … crucial memories may be forgotten, tangible evidence may be misplaced, key witnesses may have died, and as a result once-exculpatory evidence may be impossible to obtain." This means it was more likely that with an extended statute of limitations, the wrong person may be accused and charged with a crime.
What should you do if arrested for murder-for-hire?
Someone who has hired a hitman, with the result ending with the completion of the murder, can be charged with felony murder.
Under Maryland law, the charge [of felony murder] is treated as
If you're arrested, know your rights:
Right to remain silent
Right to consult with an attorney
Right to have an attorney present during questioning
Right to have an attorney appointed if indigent
It's of utmost importance to keep your mouth shut. The police will try and get you to talk and say something that could incriminate you. They'll use your fears and nerves against you, but don't let them. Use your right to an attorney, and consult your lawyer before you talk to any police. Outcomes may seem cast-iron, but with the help of an attorney, it's far more likely that you'll get a lesser charge if you simply let them do the talking instead of you. That's why it's crucial to have your attorney with you during questioning from the police. Your lawyer can answer any questions they have, and can offer you invaluable advice.
One doesn't have to commit a murder themselves in order to be charged with first-degree homicide. Stacey's Law makes it so that if you solicit a person to kill someone for you, you could go to prison for the rest of your life. If you are arrested for such a crime, make sure to keep quiet and know your rights. Contact Drew Cochran, Attorney at Law, at 410-271-1892 to schedule an appointment. Feel free to use our contact page as well.
And remember – Keep Calm, and Call Drew.